<![if !vml]>

<![endif]>
A   U   T   O   M   O   T   I   V   E
HIRE WORKSHOP SPACE    LEARN HOW   GARAGE SERVICE   NAGARA MIDGET CONTINENTAL   ABOUT   CONTACT   PHOTOGRAPHS 
<![if !vml]>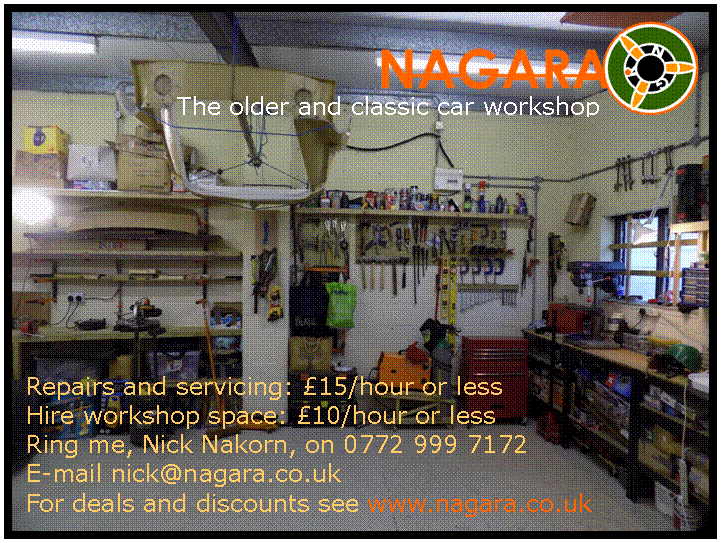 <![endif]>
Click here if you'd like to use my workshop for your DIY classic car maintenance, if you'd like to learn how to maintain your older or classic car or if you'd like me to do the work for you at very competitive rates.
My huge thanks to the many thousands of people who have supported the old Nagara web pages over the years; last year there were over 60,000 of you following the site and, while there were a few people interested in the politics and poetry that remained on the site from previous years, the vast majority were interested in the 'how-to' car pages – especially those concerned with making things from scratch. I'm delighted to report that at one time last year, the 'making a polyurethane bush' page was at the top of the Google search list for that subject. Perhaps I should have monetised the site but, frankly, I think it's good to have plain, old-school, ad-free spaces on the net.
With the Nagara MG Midget project now well underway, it's time to rationalise my web presence and at some point the writing, poetry, music and political pages will be reborn on a separate site. But for now I'm working on a bespoke site for this URL just for the Nagara Midget and I hope to see you all in the New Year.
Many thanks again for your interest. A temporary public site for the
NAGARA MG MIDGET 1500 CONTINENTAL
 project was posted earlier in 2015 at
The private site for supporters, family and friends of the project will remain as before and your passwords have not changed. Very best wishes all,
Nick Nakorn
<![if !vml]>

<![endif]>